World Class Company Secretary & Director Duties Excellence 2018, South Africa
World Class Company Secretary & Director Duties Excellence 2018, South Africa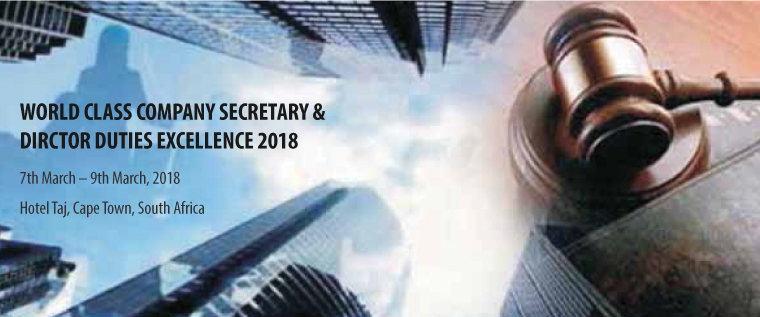 Overview
Facilitated by Qualified Chartered Secretary (FCIS), Director-General (UK & Europe) at IOD (Institute of Directors), (Dubai), and Vice-Chairman of the ICSA.
Benefits
Delegates will build their network and hear about winning strategies to cement themselves as the 'go to people' in their organisation.
Receive tactics, tips and toolkits to work smarter and secure success.
Further understand the power that sits in your hands by unlocking your emotional intelligence and applying winning strategies.
Confidently design and implement good governance models in your organisation.
Better equipped to handle conflict and disputes in the Boardroom and between senior management and directors.
Revived passion for your role and its scope as Company Secretary.
Provide greater clarity of the role of the company secretary in facilitating corporate governance, and support for the Board.
Understand the range of tasks associated with the work of the company secretary.
Explore the legal authority (and obligations) of the company secretary.
Who Should Attend
• Company Secretary
• Chairman
• CEO / COO
• Director
• Chief Internal Auditor
• Head of Legal
• Corporate Governance Professionals
• Head of Compliance
• Head of Finance / CFO
• Head of Vigilance
• Secretary to Board
• Audit Committee Members
• Regulators
• Chief Risk Officer
Videos