3rd Annual HR Analytics & Leadership Management Excellence 2018, South Africa
3rd Annual HR Analytics & Leadership Management Excellence 2018, South Africa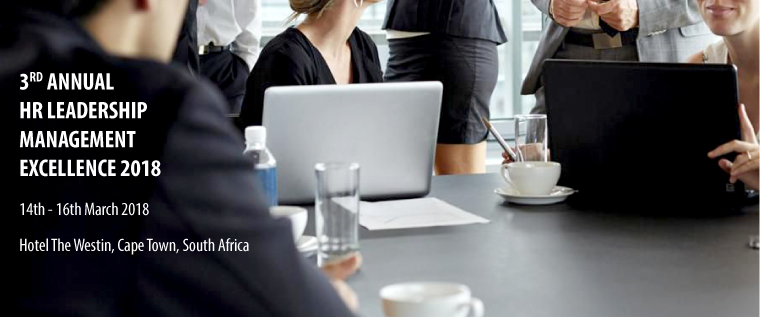 Overview
The role of the Human Resources Leader is more important than at any other time and has become one of providing strategic positioning of people for competitive advantage as well as delivering day to day operational excellence. Having the right people in the right place at the right time with the right skills are critical to the organization's success.
But there are significant challenges to achieving these objectives including talent shortages, demographic change and engaging a diverse and multi- generational workforce. To deal with these effectively, HR leaders have to match an understanding of the external environment with both strategic and operational people policies and practices.
To do so requires people management insights thatwill add value to Boards or Senior Executive teams. This 3 day Workshop will provide HR leaders with the an understanding of HR Strategy that will support Organisational objectives and will give the participants time, models and resources to work through examples and case studies. It will focus on best practice from organisation around the world butwill tailorthese to best fit. It will give the participants the opportunity to develop new ideas in delivering HR Leadership for their own unique contexts.
Benefits
Understanding the role of the HR Leader in delivering competitive advantage through people
How to develop an HR strategy that is aligned to the business strategy
How to develop a StrategicWorkforce Plan as part of this process
How to ensure the identification, attraction, retention and effective management of people through talent management systems and processes
How to engage employees through building a culture of inclusiveness and opportunity
How to manage a multi-generational workforce
Understanding the Employer Brand and the Employee Value Proposition
The benefits of coaching and mentoring
Who Should Attend
• General Managers
• HR Directors and Executives
• Senior HR Professionals
• Heads of HR
• HR Business Partners
• Talent Executives and Managers
• Organisational Development Executives and Managers
Videos