Global Mergers & Acquisition Workshop 2018, Singapore
Global Mergers & Acquisition Workshop 2018, Singapore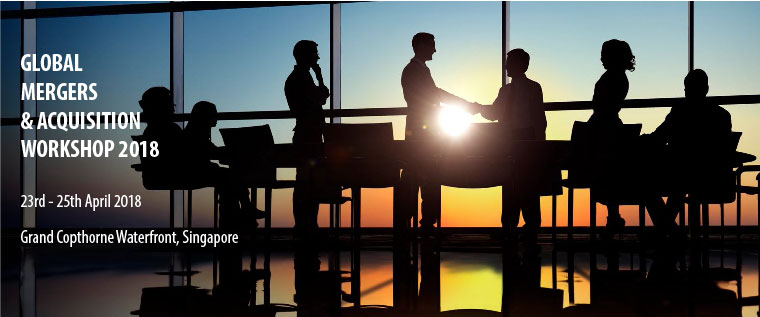 Overview
In today's global environment, successful business executives in almost all functional areas must have at least a solid working knowledge of the broad topic of Mergers & Acquisitions (M&A). While maximizing value for owners has always been a fundamental goal of businesses worldwide, achieving that goal has become more and more challenging. Key factors impacting the changing landscape of the business world include the accelerating globalization in all sectors of business, widening disparities of growth potential between different countries, challenges companies face in generating organic growth, increased demands placed on management by shareholder activists, immense amounts of committed equity capital in the hands of private equity funds, a very liberal lending market and the strong financial position of many large businesses, just to mention a few. Whether you are an international investment banker, lender, investor, student or corporate executive, your future success will depend in part on how well you understand the global purpose, mechanics, risks and results associated with M&A.
This inaugural three-day Master Class will lead participants through the key elements of M&A. We will talk about who the key players are, what they do and what kinds of transactions they handle. We also will discuss the trends, new developments, risks, and opportunities that are imbedded in any M&A transactions that are completed. And we will talk about what kinds of results one would typically expect to see when M&A is done well and also what to expect when the execution is done poorly.
In whatever role you may have, knowing more about the fundamentals of M&A will help you keep up with and beat your competition in the current and future business environment.
Benefits
Become more conversant about a relevant and popular business topic
Develop solid understanding of how M&A is used as a tool to grow businesses
Learn how to work with colleagues on M&A related projects and undertakings
Learn about best practices in M&A
Learn U.S. perspective on working on deals in Asia and Europe
Explore challenges of doing M&A in emerging marketse
Learn about common risks and pitfalls associated with M&A
Become more informed regarding negotiating tactics in M&A
Learn how M&A professionals work cooperatively with other functional areas
Hear "war stories" about transactions completed (and aborted)
Who Should Attend
• Managing Directors & Senior Management
• CEOs & CXOs
• CFOs & Financial Heads
• Executives of M&A Team
• Legal Heads & In-House Counsels
• Directors of Strategic Planning
• Financial Managers / Executives
• Operations Managers / Executives
• Investment Bankers
• Corporate Development Professionals
• Private Equity Professionals
• Lawyers / Accountants
• Business Line Executives
Videos